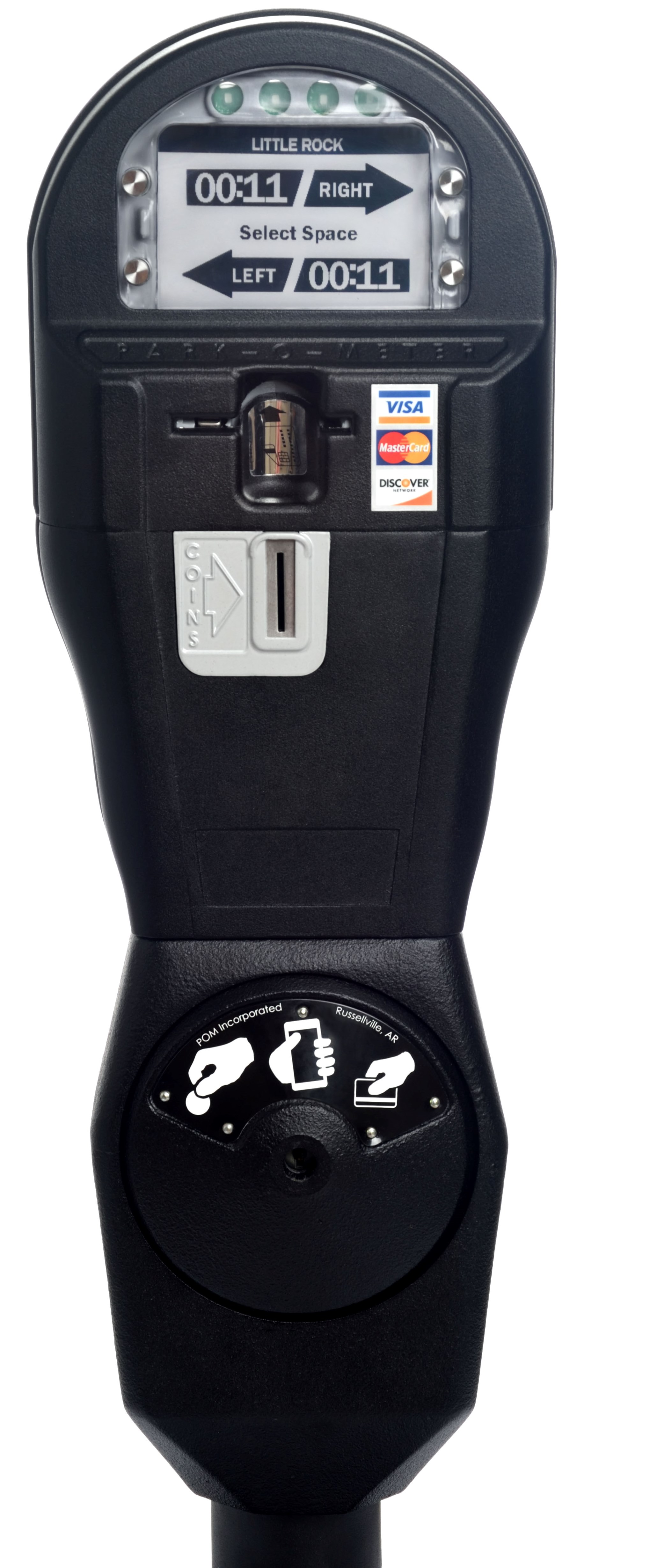 Parktel shown with options: 2-space programming, iron 95 vault, and pay-by-cell integration
Fits POM Zinc Upper Housings, or Onto All Meter Vaults.
Modern, retro, and rugged
Low-power, highly reflective, vertical, memory LCD display
Multiple interface communications
Accept coins, all major credit and debit cards, pay-by-cell, and branded prepaid smart cards (latter which can be refunded with leftover time, resetting the meter to 00:00 for the next user)
Super bright RGB LED lights front and back, can be configured for special functions and multiple colors.
Durable, contextual buttons not limited to one specific function
Can integrate with vehicle sensors and/or pay-by-cell apps; mobile apps allow user to remotely add time at any point during time runoff.
Power saving features equate to best backup battery life on the market, enabling "Always-On Technology".
Now standard with 4G/LTE Cat-M1 communications (Parktel 2.5)
EMV and NFC options available as well (Parktel 3.0)
All critical components (including antenna, card reader and solar panels) protected inside the meter housing; modular and easy to maintain, repair and upgrade.
Meters one or more spaces, downloads the appropriate firmware when and where installed (rate specifications tied to parking location, not to the mechanism)
MeterManager.net cloud dashboard, now for all POM meters
Ask about our "touchless" payments options.
Multi-lingual firmware for two-space and single-space applications
POMPay mobile payment (settled with Google Pay or Apple Pay) using

secure QR code in the display

. Why is that important?  Here's one example.  Then there's Houston….San Antonio….Honolulu…. Portland….Lafayette….Apparently that's a problem all over the world.
ISO 9001:2015, Made in USA, 100% Woman-Owned Business
Now available on OMNIA (formerly NCPA) National Contract, and state contracts COSTARS and MAPC.         ​
Request for Parktel Information
Please tell us if you already have meters to upgrade and what kind; if you need to utilize existing housings or want to obtain all new equipment; and about how many spaces you want to meter.
select for video

Parktel single-space base model meter

most visible display

Milwaukee

VA Beach
We are proud to announce the following integration partners for the Parktel, which are able to push time/status onto the meter's display.  This is made possible by POM's unique power-saver features, which allow "Always On Technology":​




……………..More integrations pending.  Watch this space for updates……………….